Author:
cnc@cncGlass.com EVA film glass interlayer
Peter Lin
Mail: cnc@cncGlass.com
cnc@cncEva.com
Whatsapp: 0086 15013829504
Super clear eva film
Outdoor white eva film series
Green tape for laminating, heating resistant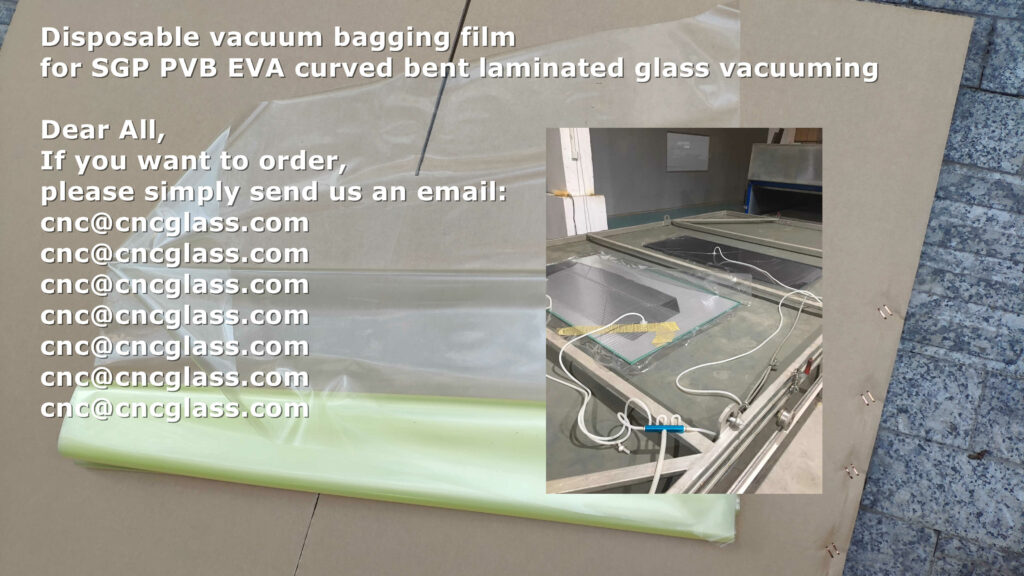 Heavy Duty Heat Cutter: 10 Hours Pro250 for thick sgp laminated glass edges trimming
【1】Suitable for heavy duty operation and for a more continuous long time cutting operation(about 10hours).
【2】Due to separated power supply, the handhold weight only 250g and no heat at the handhold part;
【3】Built inside with high quality power electronic, the heavy duty cutter has a stand-by temperature, the blade is pre-heated when the unit is turn on, therefore allowing quicker operation;
【4】Suitable with all listed popular blades for glass interlayer trimming: 3.1, 4.1, 11.1, 14.1, 3.2, 4.2, 11.2, 14.2, R blade, and F blade;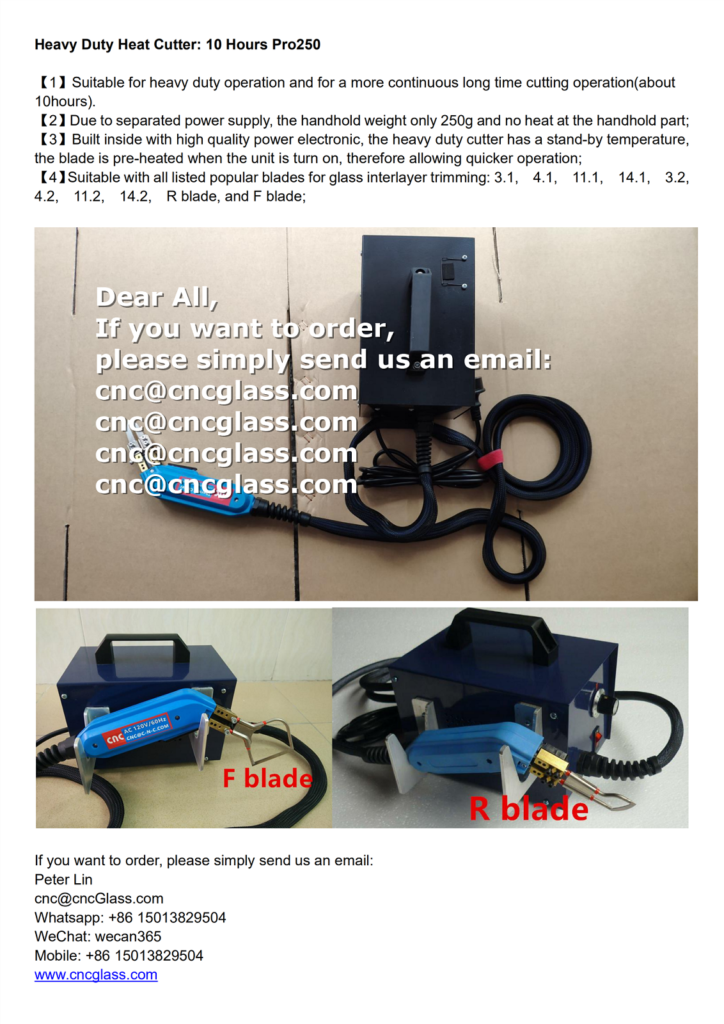 If you want to order, please simply send us an email:
Peter Lin
cnc@cncGlass.com
Whatsapp: +86 15013829504
WeChat: wecan365
Mobile: +86 15013829504
www.cncglass.com
Instructions of How to Use Heavy Duty Heat Cutter: 10 Hours Pro250
Technical Data:
CE Standard: AC 230V/50Hz
US Standard: AC 120V/60Hz
Power: MAX 250W
Temperature of Blades: Up to 500℃ in seconds
Preparation:
【1】Select a Thermal Cutter blade corresponding to the cutting use.
【2】Loosen the knurled nut when device is cold.
【3】Insert each leg of the blade and tighten the knurled nuts. Make sure that the blade and the cutting head have optimal contact. If both legs of the blade are not properly installed, the unit will not heat up.
【4】 Power on.
Cutting:
【1】 Avoid direct short circuit between blade holders.
【2】Put the blade on the cutting material, press the switch and start cutting. It is recommended to have a try firstly with small piece of samples.
【3】If smoke develops during the cut, you are cutting too slow or the blade is to hot. This can be remedied by lowering the temperature and intermittently releasing the trigger during your cut. As the cutting resistance increases, depress the trigger again. The Thermal Cutter Pro 250 will reach the set temperature within seconds. You can accomplish your cut with minimal smoke using this process. Properly Cutting in this manner will also prolong the life of the knife.
【4】Clean the blade by brush.
Caution:
【1】Always operate the Thermal Cutter in well ventilated space.
【2】Never burn off the excess residue on the Thermal Cutter blade. The blades will over heated and be warped.
【3】Only operate Thermal Cutter when it is in contact with the insulation board;
【4】Keep hot blades away from skin, clothing and other flammable materials.
【5】Allow blades to cool before handling. Thermal Cutter may cause injury or burns to exposed surfaces.
Safety Notes:
【1】The device is not suitable for people with health damage,sensory or mental impairment, including
children,inexperienced person and ignorant person, unless there's someone responsible for security.
【2】The children should be monitored to ensure that they do not use the device.
【3】If the power cord is damaged,it should be replaced by qualified personnel to avoid danger.
If you want to order, please simply send us an email:
Peter Lin
cnc@cncGlass.com
Whatsapp: +86 15013829504
WeChat: wecan365
Mobile: +86 15013829504
www.cncglass.com