Advantages of EVA Interlayer Film Compared to PVB Interlayer Film By Peter Lin
What's Wrong with PVB film:
However, PVB Interlayer Film is very sensitive to moisture, which makes it difficult to store and process. It requires high standard of processing condition room to care about humidity.
So EVA Interlayer Film is emerging and playing a more and more important roll in laminated glass and decorative art glass world.
Advantage of Making Laminated Glass with EVA Film Compared with PVB Film
1- EVA Interlayer Film is Less Sensitive of Moisture. And EVA Interlayer Film can be processed in an common room condition, no special requirements.
2- EVA Interlayer Film is better at flowing mobility when heating and melting in the oven and better for laminating with papers, PET, silk, wire net, fabric insertion.
3- EVA Interlayer Film is good at aging resistance, the aging-resistance can be more than 15 years. That's why EVA film is chosen for solar panel encapsulation lamination.
4- EVA Interlayer Film is stronger in adhesive with various materials, PMMA, PET,Metals, Plastic etc.
5- EVA glass laminating line is easier and less cost to install. PVB glass laminating is mainly working in a big autoclave, it's not suitable for the company to make small quantity creatively designed artistic laminated glass for special requirement of different customers. PVB glass laminating machine is a large investment which would be a barrier for the new company who are interested in laminating glass world.
Can EVA Replace PVB?
Prove 1: In China National Safety Laminated Glass Standard(2009 Edition), the Glass Lamination Ethylene-vinyl acetate EVA Interlayer Film is recognized as a safety interlayer film for safety laminated glass, only if the Glass Lamination Ethylene-vinyl acetate EVA Interlayer Film past the same tests as PVB interlayer film.
Prove 2: Glass Lamination purposed Ethylene-vinyl acetate EVA Interlayer Film can past the tests which are required for laminated glass with PVB interlayer film, like High Temperature Resistance Test, Radiation Resistance Test, Humidity Resistance Test, Ball Impact Peeling Test, Shot-bag Impact Test etc.
Peter Lin
Mail: cnc@cncglass.com benext77@hotmail.com
Skype: Cnext365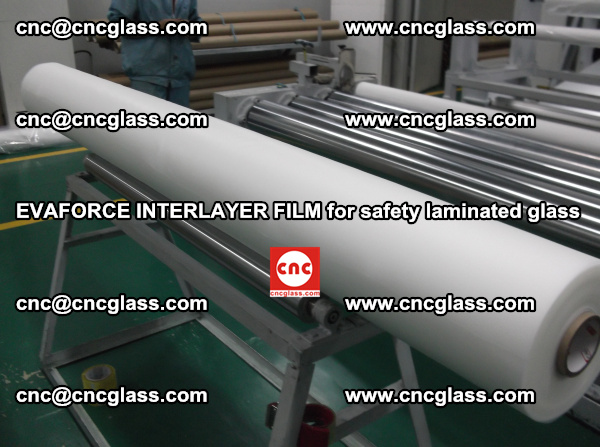 CNC Glass Interlayer
www.cncglass.com www.c-n-c.com
1-Super clear eva glass interlayer film, for both indoor and outdoor laminated glass application;
Super Clear EVA Film for Massive Lamination
EVAFORCE SUPER+
*Super Clear EVA Film for Massive Lamination
*Massive,Largest sold quantity in all EVA films
*Great performance with affordable price
*Aim for architectural safety laminated glass
*Applied both indoor and outdoor
*Replacing PVB Film
Super Clear EVA Film for Tempered Curved Glazing
EVAFORCE EXTREME
*Super Clear EVA Film for Tempered Curved Glazing
*Less overflowing during vacuuming heating
*Strengthened safety mechanical properties
*Recommended for extreme environments, safety tempered glazing or curved glass laminating
*Applied both Indoor and Outdoor
*Replacing PVB Film
Super Clear EVA Film for Graphic Insertions
EVAFORCE LOW80-120
*Super Clear EVA Film for Graphic Insertions
*Laminating both at 80°C and at 130°C
*Protect the insertions from above 100°C
2-White eva glass interlayer film, for both indoor and outdoor laminated glass application;
*Milky White/White Opaque EVA Film
0% Visible Light Transmittance
*Sandblasting White/White Translucent EVA Film
65% Visible Light Transmittance
*Super Milky White/Super White Opaque EVA Film
0% Visible Light Transmittance
*Arctic Snow White Translucent EVA Film
78% Visible Light Transmittance
*Cool Jade White/Cool Acid White Translucent EVA Film
81% Visible Light Transmittance
3-Thermal cutter for trimming laminated glass edges overflowed remains;
4-Green tape for fixing laminated glass, high temperature resistance;