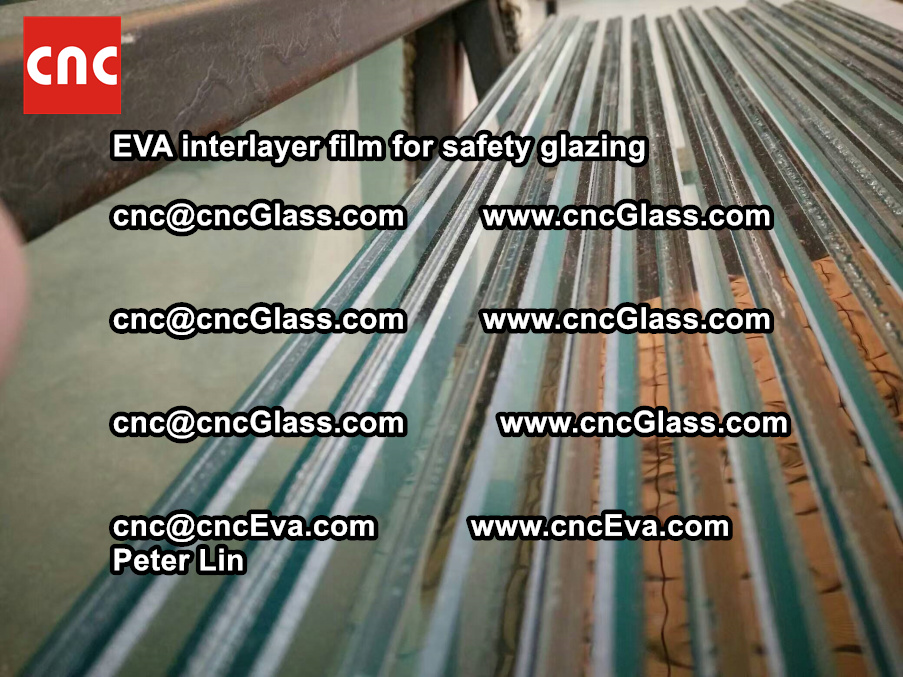 How to solve glass haze after lamination?(CASE STUDY)
1, SOME PART OF LAMINATED GLASS HAS HAZE
One of cncglass.com clients sent Peter Lin mail ask for help:
Good Day Peter,
We have laminated a batch of 15 panels in our 5 tray oven. We have found the panels closest to the door are hazy. In the panels in the middle and rear of the tray are clear. Our run cycle was as follows:
Deair – 90minutes
Low temp – 60 degrees
Low temp hold time – 30 miuntes
High Temp – 130 degrees
High Temp hold time – 60 minutes
Cooling – 180minutes
The makeup of the glass is 2 x 8mm toughened clear glass with 2 x 0.76mm EVAFORCE EXTREME
Please assist in our problem as we need to do another run today.
Many Thanks
2, REHEAT THE HAZY LAMINATED GLASS FOR LONGGER TIME
DEAR BELOVED CLIENT
Here is Peter Lin, answering your mail.
First, your laminate heating cycle data is correct.
Second, but the result shows the temperature of glass is not even. the middle and rear of the tray is more heat energy than the panels closest to the door. So the hazy parts of the laminated glass did not absorb enough heat energy.
Third, the urgent solution is that, you can try to put the laminated glass into oven and heat again, but you need to prolong the high temp 130 hold time from 60mins to 90mins.(please do a small quantity test first.)
Forth, the long term solution is that you check with your machine supplier, let them check the laminating machine, make sure heat in the oven is even, and the lamianted glass is heated at the same temperature in all places.
3, HAZE IS CLEAN AFTER REHEAT
Here is the thank mail from our CNCGLASS.COM client:
Good Day Peter,
The run time of 90mins worked and cleared the haze. Many Thanks for your help.
Many Thanks
4, REHEAT CAN ONLY BE DONE IN ONE TIME!
It's important to note that, the reheat process can only be done in one time, the second time of reheat won't work in most of situation.
So you need make full use of the first time of reheat.
When you set the data of the reheat, most of situations, the temperature can not be higher than 130C degrees, but you may need to prolong the heating time, make sure this time of reheating, the laminated glass will absorb enough heat energy to finish the reaction, and clean the haze.
Sometimes, solutions varys depending on situations.
So remmeber to contact us, PETER LIN, cnc@cncglass.com, if you have doubts of eva glass lamination, you are always welcome, even though, you are not using our EVAFORCE interlayer film.
You can also reach me in whatsapp:
Peter Lin
cnc@cncGlass.com
Whatsapp: 0086 15013829504
Thanks very much for your reading, and be interested in CNCGLASS.COM products.
Have a good day.
Best reagrds from Peter Lin always.